24
Jul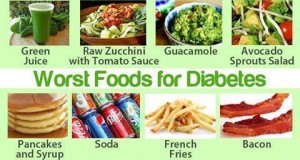 They are alot of foods you should avoid as a diabetic. Me myself should avoid these fooods.
With every meal, you should have some kind of carbohydrates for the energy. Like if you go out to eat and you go to a McDonald's for an example if you eat lunch, if you eat a hamburger or a cheeseburger, then you should not eat french fries. If you eat french fries, then you should not eat hamburger or a cheeseburger. I try to eat at home as much as possible.
Try to avoid sweets and junk food at all times. If you keep eating these you sugar can skyrocket. Then you're going to not feel very well. One of my favorite things is ice cream. I love me some ice cream. Every week I got to have some ice cream. I usually go to Diary Queen to get the blizzard of the month to punch my card. You buy 5 and get the 6th one for free.
These are the kind of food that you can eat. It's great eating your fruits and vegatables everyday. It give you alot of energy. It could prevent heart disease. If you have this in your body every single day. When you get your bloodwork done every 3 months, it'll show that you vitamins intake in your system.
With me living in this room without any kitchen I can't have fruit in my house because the fruit will spoil within a couple days. When I buy food, I like to have plenty of it to last me at least a week. My refrigerator is very small.